Why You Should Choose
A&J's Catfish Station
A&J's Catfish Station was created with the customer in mind. Everything we cook is cooked to order (our food doesn't sit around waiting for you). We wait for you to order then prepare your meal so that it's fresh, hot and great-tasting when you take your first and last bite! We prepare our last meal of the day as if it were our first order.
Hospitality & Service
A & J's Catfish Station endeavors to deliver the utmost in service and quality and to surpass what our guests may expect. We employ only the most talented and dedicated people who are as committed to delivering friendly and genuine hospitality to all of our guests. These amazing people are treated with great respect and are provided with a supportive and encouraging work environment. Best People Practices is our most prized Accolade because we so value the people we work with. Professionalism is expected at all times and we do our best to create a positive working environment. You'll find only the finest products at every A&J's location — anywhere, anytime, at any cost — and perpetual improvement every day, by everyone, in everything we do.
Andre & Janis, the founders of A&J Catfish Station, would like to thank you for supporting our restaurant. We use only the freshest seafood and make our items from scratch daily. Thank you for supporting Memphis & Millington.
It's some of the best catfish in town, but don't just listen to us… Read the reviews on Google

Memphis, TN
5950 Knight Arnold Rd Ext
Open - Limited Hours!
(901) 795-0300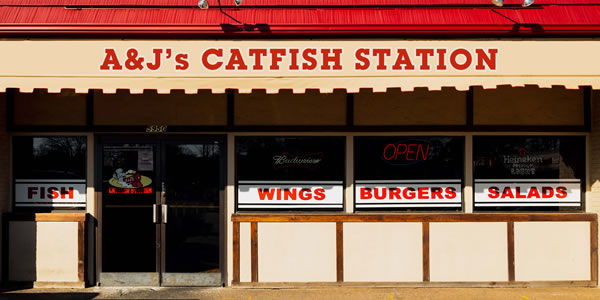 Come join us as we welcome back guests and family to our Knight Arnold location 🚂💨
12:00 AM Wednesday - 20 October 2021
view detail